As an Amazon Associate I earn from qualifying purchases.
San Diego's airspace is a different and one of the most guarded airspaces across the country. There are very few places in San Diego where you can freely fly a drone. This is mainly because of things such as the presence of an international airport, several military bases and even an international border. All these factors combine to make it impossible to freely fly your UAVs. In fact, by April 2017, there were only 274 people who had been authorized to fly drones in the entire county. So, what are some of the places you can fly a drone in San Diego?
1. Sunset cliffs
One of the best places to fly your drone in San Diego is at the Sunset cliffs. While it is a fairly populated area, there is greatness in the aerial view of the place and by following all FAA rules, you will be able to fly your drone and capture beautiful and magnificent images and videos of the place. If you go a little further down, you will have a beautiful view of beaches and other jaw-dropping sceneries from a vantage point.
2. Torrey Pines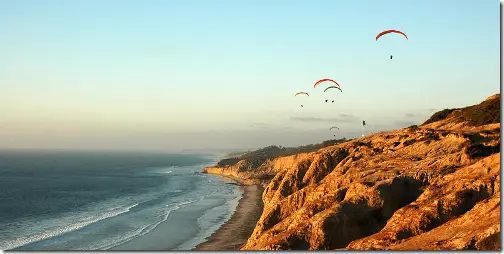 The Torrey Pines is another place where you can fly your drone in San Diego city. Besides the fact that it is convenient for you to fly your drone, there is also the added advantage of the beautiful scenery that overlooks the Torrey Pines golf course and a steep cliff that gives you the feeling of standing on the edge of the world. By ensuring you follow all the FAA rules, you will find it very gratifying to fly your drone here.
3. Perris
Perris is an area located approximately 30 miles southeast of San Diego city and is home to some of the best views especially from above. It is not very close to any important installments such as airports and hospitals but boasts of some of the best views in San Diego. Here, you will find views of a magnificent lake surrounded by a forest that gives the view a symmetric appearance from above. In addition to that, the area is also convenient for camping.
4. FedEx Office print and ship center
This is another of the areas around San Diego where drone flying is permitted and convenient. The area is not very densely populated and is a couple of miles from San Diego intentional airport so you will not be interfering with any traffic to and from the airport. However, it is important to ensure you observe all FAA regulations including one that requires you to fly below 400 feet.
5. Miramar water treatment plant
One of the main reasons why Miramar water treatment plant is a prime area for drone flying is because it has less human traffic and therefore there is very minimal danger posed to people. The place also has very few obstacles in terms of buildings which makes it easy for you to fly your drone without interruptions. It is also easy to keep your drone within sight so that you avoid any unnecessary accidents.
6. Coca-Cola bottling company
The area around the Coca cola bottling company in San Diego is another area where you can freely fly your drone thanks to the nature of the environment in this area. The FAA rules apply here as well but are not as strictly enforced as other places where human traffic is huge. The area is also not too close to important establishments such as schools and hospitals and therefore you will be able to view very good images and videos in case you are flying a drone with a camera.
7. Helen & James Copley Library
The views at Helen & James Copley library are breathtaking just by looking at them from the ground level. Imagine if you had to take the shots from above ground level. The area around this place is best suited for afternoon filming because of its great horizon and the magnificent design of the library. By just going a little higher, you will capture some of the best pictures you have ever taken.
8. San Diego River Park
This is another great place to fly your drone in San Diego primarily because the area is sparsely populated and comprises great open spaces that poses little danger to human activities in and around the place. With the wide open spaces around this area, you will be able to capture great footage and images with minimal obstacles especially because you are limited in the maximum altitude you are allowed to fly.
9. Solana Beach
While flying along beaches is strongly discouraged due to great human traffic, you cannot resist the temptation of flying your drone over Solana Beach. You will have a great variety of things to capture that will give you an enviable footage if you have your camera on-board. Just make sure you steer clear of any human traffic and you will be okay.
Amazon and the Amazon logo are trademarks of Amazon.com, Inc, or its affiliates.