As an Amazon Associate I earn from qualifying purchases.
Introduction:
We came a long way from the hunters and gatherers in the past. Now, modern humans use technology as a new lifestyle. People today use technology to improve daily activities. Examples are harvesting vegetable and fruit products in farms.
Farming is the first livelihood activity of humans. Past human ancestors learned to use crops to prevent hunger. The modern humans perform agriculture through technology. Our society uses agricultural machines to monitor and cultivate crops. Agriculture introduces one technology to improve farming activities. This is the Drones that monitors crops and cultivated farmlands.
Drones encountered technical controversies in the past. These controversies help manufacturers develop better monitoring devices with new features. Drone became helpful in farming industries around the world due to it's monitoring functionanilty.
The introduction of an Unmanned Aerial System (UAS) or Drones assists farmers to increase crop productivity. Using a Drone increases crop production that can be reach to  more consumers.
---
Pros:
Mapping
Farming is seen as a labor-intensive industry. Drones are needed to replace farmers that are exposed to a harsh weather. Farmers easily experience exhaustion while mapping their farmlands. Drones make it easier for farmers to survey the land and measure the whole land area.
Drones improve mapping system in farmlands. The device provides a high-quality image that monitor the present farm condition. Examples are topography changes, a presence of new structure, and weather disturbance.
Once the Drones are optimized, they can fly over the entire farm capturing images or spraying fertilizers. These Drones can revolutionize agriculture, making the entire farming mapping process as an easy process.
Prevents Infestation
Drones constantly fly around the farm to spot an infestation. These are devices launched into the sky to monitor the farm round-the-clock. Any infestation sign prompts farmer that there is either an animal or insect infestation. Infestation damages any crop. Animals or insects devour crops in just a few days. Farmers suffer from resource scarcity whenever there are insect or animal infestations.
The Drones's presence intimidates animals in the farmlands. The device uses ultrasonic waves that irritate small animals and drives them away from the farm. Ultrasonic waves prevent any insect return back to the farm.
Moisture Monitoring
Farmlands are usually exposed to either extremely dry or wet natural phenomenon. Some farms are either drier or wetter than the rest farmlands. A Drones detects farm areas that are experiencing either dry or wet natural circumstances.
Drones allow farmers to save their crops. The device roams across the arable land to monitor any danger signs to the crop. Drones close monitor of affected areas signal farmers to take action.
Spraying Fertilizers and Insecticides
Drone spray fertilizer chemicals to crops. While spraying, Drones visualize the crops to show the actual fertilizer applied to it. Fertilizer spraying happens right after planting the seeds.
Insecticides prevent animal or insect infestation to the farmlands. Humans are at risk for developing diseases when exposed to insecticides. They are machines that are immune to pesticide's chemical complications.
Analyzes Crop Quality
Quality is always important for farmers. Improving crop's quality satisfies target market's needs. Drones assist farmers to improve the crop quality in their farmlands.
Drones are equipped with light processing devices to visualize the crops. The device provides farmers an idea about the crop's health. The device detects unhealthy crops to prevent shipping substandard products. The device analyzes the crop quality after sprayed with insecticides or medicines. This is to monitor the effect of the chemical substance to the crops. Farmers discard crops damaged by insecticides.
Reducing Farm's Operational Costs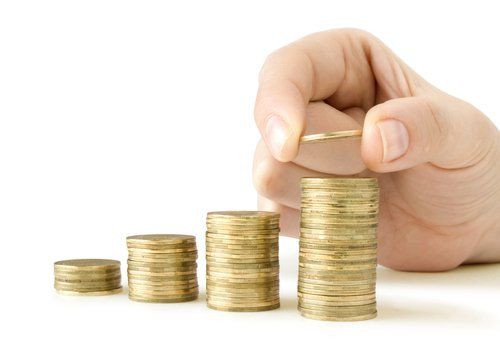 Labor costs are reduced by regular use of Drones in agriculture. Drones improve the quality of the crops before they are distributed to the target markets. The device presents any infestation to the crops regularly.
The UAV acts as alternative manpower to the farmlands. They assist in visually monitoring the farmlands. Drones are alternative quality detector system that reduces cost. This is to prevent rejected crops reaching target markets. This can eventually offset the cost of buying the Drones. Farmers may even be able to avoid losses incurred due to infestations or diseases on the plants.
Easy to use
Drones are easy to use in farming. Deploying Drones takes less time to launch above the Earth's surface. The buttons or icons from the smartphone easily control the Drones movements. There is a manual that assists farmers to use Drones properly. An example is to execute the Drones to fly after pressing the launch icon.
---
Cons: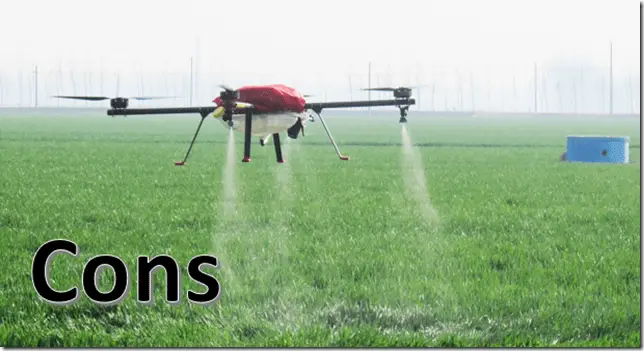 Legal Restriction
The Federal Aviation Administration (FAA) dictates any Drones use in both commercial and in private spaces. All Drones between 0.55Ibs and 55Ibs have to be registered to the FAA. The regulating agencies provide higher restrictions to Drones over 55Ibs in weight.
Drone users are not allowed to use the device out of the line of sight or under a covered structure. Users should not fly the Drones over people who are not a part of their operation. Drones should fly at a height less than 400 feet and a speed less than 100mph. Every state or region impose their own laws. Differences influence the culture and customs of the region that is make it unique from other states.
A farmer must have a complete understanding of the Drones's rules and regulations. Agriculture industries must follow the laws while using the Drones. Any violations can apprehend the farmers such as imprisonment or financial fines.
Flight Route Limitations
Drones have a limited airspace to fly around. The limitation prevents Drones from sharing the same flight path to another flying device. Airspace interference with other Drones can risk accidents. Airport terminals prohibit Drones use. A Drones can destroy the propeller engine of manned vehicle that can damage other aircraft. If this happens, it can cause a catastrophic incident to the airplane.
Knowledge limitations on How Drones Operate
Farmers are not technically skilled. They do not know how to operate Drones because their routine is mostly on farming. Farmers cannot use the Drones if they do not know how to operate the device. There is an instructional manual attached which requires farmers to study it's feature and function.
Learning to use the Drones takes time until users start to appreciate the Drones function. Understanding the Drones's functions and features takes time. New Drones users must have to allocate their time trying to understand the function of each device.
Privacy Encroachment Fears
Farmers fear that their privacy is compromised when they start using Drones. They believe that Drones expose their lands to the public space. The main reason is the Drones's connection to the internet.
When people see Drones above the ground, they presume that they are watched. Other individuals file complaints when they see Drones because they feel threatened. Even if the FAA mandates rules to regulate every resident's privacy, there are still violators that continue to invade other's personal space. Any individual feels uncomfortable whenever they see Drones flying above their property.
Requires a License
A license is required to fly a Drones. Farmers are required to go through a commercial Drones exam. They can operate Drones once they pass the exams. Once an applicant passes the commercial Drones examination, they are allowed to operate their Drones to the farmlands.
A spotter is required by the FAA to ensure that the Drones are visible in sight. Farmers are only allowed to operate Drones that are visible to the naked eye. Once the Drones disappears from the sight, it violates the FAA's terms and conditions.
Expensive
Drone is an expensive tool for farmers to assist in crop production. The regular Drones price is averaging between $10,000 and $20,000. This amount is expensive for farmer to pay. There is a motto that says "the higher quality, the more expensive it is". Drones with good quality features are more expensive than other devices with lesser features. Examples are Drones that have brand are more expensive than an ordinary device.
Farmers are required to buy Drones's accessories. These are controllers, closed-circuit television camera, internet connection, and mobile electronic parts. All accessories are sometimes more expensive than the Drones.
Upgraded Drones That Confuses Farmers
Farmers are not aware that Drones need regular updates. Other Drones become obsolete because newly upgraded versions that are more useful in farming. It can quickly become obsolete in just one year.
The application of new technology confuses farmers. They are not informed that Drones should be upgraded to the new versions. Farmers get irritated when they are required to update the Drones. Most farmers immediately think of the cost that cuts their farm's revenues.
Agricultural companies reject the idea of replacing their old Drones. They prefer preserving the device for as long as it is still functional. Even if there are newer versions, farmers still use their Drones to save farming cost.
Safety Concerns
Safety is a concern when using Drones in farming. Drones can end up creating safety hazards if not flown properly. An example is when the device is flown too low can hit people or vehicles. This is one of the reasons why the FAA announced stricter rules and states have ensured further rules protect the safety of the people around Drones.
Severe Weather Phenomenon:
Severe weather interrupts all flying objects including Drones. The wind velocity accompanied by heavy rains intercepts Drones' radio signals. Examples are tornado, hurricane, sandstorm, and thunderstorm.
---
Conclusion:
Drones in agriculture make important necessities for the farmers. The device assists farmers to visualize their crops across their farmlands. The technology prevents any risk on losing crop's productivity. Farmers usually observe an increase in investment returns after they start using Drones.
The idea of having an eye in the sky gratifies agricultural production for farmers. Drones provide an alternative eye above the ground towards the crops. Without Drones, farmers end up working the whole day. Farmers are required to watch over their fields without using Drones.
Drones make it easier for farmers to identify farm problems. The device help saves time save the crops. Farmers are thankful for using Drones. This is to avoid losses from infestation or severe weather events.
Farmers are aware that there are drawbacks considered when investing on a Drone. Technology observers are aware that there are problems associating Drones use. Technology experts conduct Drones research to ensure that future problems will not happen again.
Amazon and the Amazon logo are trademarks of Amazon.com, Inc, or its affiliates.