As an Amazon Associate I earn from qualifying purchases.
Often referred to as the Garden State, New Jersey is one of the top places you must visit. Although it is often overshadowed by its neighbor, New York, NJ still stands out as one of the best places to visit and site-see. It becomes even better if you have a drone and would like to capture some of the best views from a bird's perspective. Here are some of the best places to fly your drone when you finally get to New Jersey.
1. The Boardwalk

One of the most popular coastal resort towns on the Northeastern Coast of the US, Atlantic City is best known for its famous Boardwalk. This four-mile-long promenade was constructed in 1870 and to this day remains the place where the majority of the city's attractions are found, from its numerous resorts and hotels to its surviving piers, such as Steel Pier. With your drone, you will be able to capture the best of the long beach and the activities that dot the human lifestyle here.
2. Old Victorian Cape May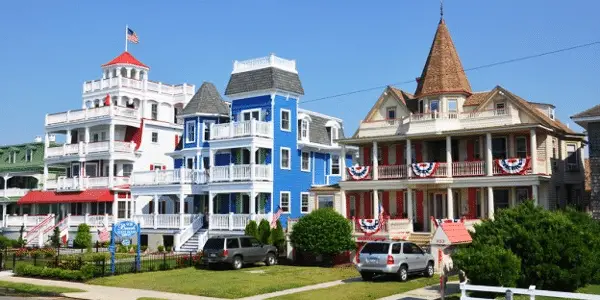 The many attractions of Cape May, at the southernmost tip of New Jersey on Delaware Bay, were largely discovered by the wealthy during the 18th and 19th centuries when it enjoyed its heyday as a fashionable resort town. It was so popular that six US presidents had summer homes here, attracted by the very things that draw tourists today: fine beaches, Cape May Point Lighthouse (built in 1859), and its many handsome Victorian-style holiday homes, one of the best examples being Emlen
Physick Estate. Now a museum, this 18-room mansion was built in 1879 and is a fine example of the American Stick Style of architecture.
3. Princeton and the Battlefield State Park

Another famous historic site is Princeton Battlefield State Park, the 200-acre location of the Battle of Princeton of 1777, which resulted in Washington's victory over the British. In addition to the battlefield itself, other highlights include Clarke House Museum, built in 1772 and used as a hospital by troops from both sides of the conflict; the Ionic Colonnade; and a memorial marking the graves of British and American soldiers. A drone shot of this area will give you a clear view of the impressive architecture and an overlook of the beautiful landscape that dots Princeton.
4. Liberty state park

Overlooking the Upper New York Bay, Liberty Island, and Ellis Island (home to New York's Statue of Liberty), Liberty State Park encompasses 1,212 waterside acres. In addition to its wonderful views of the aforementioned attractions, the park contains many highlights of its own, including Communipaw Cove, a 36-acre tidal salt marsh that has been designated a nature preserve (an Interpretive Center is onsite).
5. Paterson Great falls

Often referred to as New Jersey's very own Niagara Falls, the Great Falls in Paterson – one of the country's newest national parks – are equally fun to explore. A variety of great falls-view locations are available, including from Haines Overlook Park and Mary Ellen Kramer Park. A drone will help capture a clear yet spectacular shot of the falls from above.
6. Battleship New Jersey


The US Navy's most decorated vessel, the mammoth New Jersey is now an excellent floating museum moored on the Delaware River. Highlights of a visit include guided tours through this historic Iowa-class ship, launched in 1942 and one of the largest battleships ever built.
7. The adventure aquarium

Another popular family attraction is the Adventure Aquarium on the Delaware River in Camden. Considered one of the best such educational facilities in the US, this fun two-million-gallon aquarium is home to more than 8,500 marine animals, including a large collection of sharks, sea turtles, penguins, and stingrays.
8. High Point State Park

One of New Jersey's most popular natural areas is the 16,091-acre High Point State Park. Accessible via more than 50 miles of well-maintained trails, including the popular Appalachian Trail, the park's prime attraction is High Point Monument. Constructed in 1930 to commemorate US involvement in WWI, this 220-foot tower, made from local granite and quartz, offers superb views of the surrounding area as far as the Catskill Mountains.
Amazon and the Amazon logo are trademarks of Amazon.com, Inc, or its affiliates.